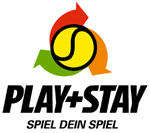 Play and Stay ist eine Initiative der ITF (International Tennis Federation). Die Botschaften der Initiative:
Tennis ist einfach, gesund, spannend und der beste Sport für dich…
mit der richtigen Lehrmethode
mit geeignetem Material
mit passenden Spiel- und Wettkampfformen
mit gesundheitsorientierten Trainingsangeboten
Weitere Informationen: tennisplayandstay.com. Die Tennis-Academy lässt viele Elemente der Play and Stay Initiative in das Jugend- und Erwachsenentraining einfliessen.